Kitchen:
Non-electric appliances? Off the grid cooking? Well heck, why not? Bring a little farm practicality and non-electric ease into your day. Don't forget: Modern IS Timeless. Let the sun cook your goodies, explore time-tested kitchens, or just increase the number of non-electric appliances you use. We realize not everyone will be into churning their butter and milling their grain. But isn't it fun to know you could?
I have caught a lot of flak from my ever-analytical soul mate who says, "Well, who the heck would have an electric cookie press anyway so why is this better?" So I revise this: This is just a page of good, solid, kitchen appliances, and energy efficient options to what you might currently be using. Let the cookin' begin!
Stoves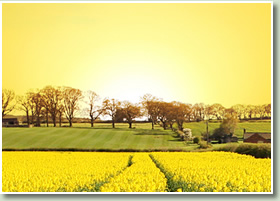 Solar Cookers: environmentally friendly Solar cookers are now much more durable with higher temperatures.
Wood Burning Stoves: Peruse a selection of wood stoves for those of you that are living off the grid. I particularly like the Pioneer Maid.
NOTE: In energy efficient homes it is *critical* to choose stoves with sealed combustion Chambers so that your indoor air quality is not effected!
Green Refrigerators and Freezers
From large energy-efficient tanks to tankless water heaters.
Practical, Easy,
Energy-Efficient
Staples
Gettin' Crafty
Easy, Cheap Baby Food Maker and other useful kitchen appliances.
Cookie Press.
Really, I'm going to be a baker one day. Currently my husband is "THE BAKER." But i have ideas, you know. And when I do, I'm gonna use this cool, "looks like I know what I'm doing and i'm a pro at this" cookie press. Yes I am.
Goin' to The Farm
Butter Churn! A real butter churn! For those of you that wake up in the morning and say, "Hey, I want to make Some butter!"
For more farm tools and Information head on ovah Here!