About Us:
Architects, designers, dreamers. These are the people that make up Green Modern Kits.
Copeland Casati David Day 3 North Akemi Tanaka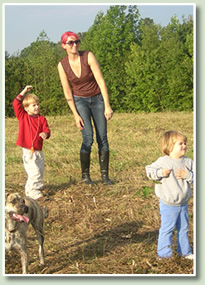 Copeland Casati founded copeland casati media in 1999. Working late, she needed a break from web projects and researched her passion in green building, modern house kits, modern design and sustainability. The housing crisis and concern over our earth propelled her to gather green building energy-system and design partners to help other eco-conscious individuals achieve their green goals. She wants to help other people like herself find affordable, green housing solutions. Hence, Green Modern Kits.
She resides with her handsome husband, chaotic children, assorted dogs and a cranky feral cat in Virginia, where they have purchased a small farm and are building their own off-grid house paradise.
You can read Copeland's own passive solar house kit construction blog here, which we warn you tends to be a bit goofy at times... (You've been warned!)
back to top >>
David Day
David Day is the founder of David Day Architecture, a green building architecture firm in Charlottesville, Virginia. His experience includes a broad range of residential, educational and cultural projects.
Architectural Record
,
Landscape Architecture
,
Metropolitan Living
,
Modernista
,
Great Houses on a Budget
,
Arts and Antiques
,
The New American Townhouse
, and the
New York Times
. His work has also earned Honor Awards from AIA Seattle and AIA Northwest and Pacific Region.
David, his talented writer wife, and their passel of children reside in an eclectic urban home. back to top >>
3 North
3North
was created to concentrate solely on small homes and on the special insights, skills and challenges building them entails. More than that, we determined that we could bring a new set of values and efficiencies to the entire process of residential design and construction.
Our team of architects, interior designers, landscape architects, and construction professionals guides each client along a prescribed path of design, selection and pricing, which, coupled with our implementation of sustainable and pre-fabricated building components, results in a unique solution that can be delivered for a fixed cost under a controlled schedule.
With offices in Richmond, Virginia and San Francisco, California, 3 North approaches each project as a unique set of needs that can be solved simply and seamlessly, while respecting your vision, your neighborhood, and the environment.
back to top >>
Akemi Tanaka
Akemi Tanaka is a Brooklyn based designer. She received her Master's degree in Industrial Design at Pratt Institute, focusing on sustainable furniture and social design. Her work has been featured in The Chicago Tribune, LA Times, and Philadelphia Inquirer and has been included in the books, Absoluute Architectuur (Belgium, 2006) and Big Ideas for Small Spaces (Sunset Publishing, 2006). Tagei and Futaba was featured in a segment on HGTV's Small Space, Big Style and the Oprah Winfrey Show.
Tanaka's passion for the natural world and for other living beings helps guide her design philosophy. Through design, she hopes to positively contribute to improving the lives of others while having minimal impact on the environment. With her design aesthetic rooted in simplicity and utility, she balances function through refined minimal form. back to top >>
Anthony Brozna
Anthony Brozna started his studio in Brooklyn, NY, where he established himself as one of the few fine furniture makers using reclaimed and salvaged wood. Each custom piece is constructed at a high level of craft, built for durability, function and repeated enjoyment. His work employs a combination of traditional and Japanese joinery techniques, machining skills and handwork. Brozna takes care to incorporate the inherent qualities of each piece of wood into his furniture, allowing aspects such as color, grain and stability to guide the design process.
Brozna Woodworking is committed to building a product that is sustainable and environmentally responsible. The lumber used in Anthony Brozna's furniture comes from trees felled by sickness or storm, or salvaged from old buildings. These trees and old beams are custom-sawn to enhance grain patterns and stability.
Anthony Brozna's work has been featured in a number of regional, national and international publications including Dwell, Travel Channel, HDTV, and Fine Living Network.
In 2003, Anthony moved his studio to Richmond, Virginia, where he lives with his beautiful wife and two children. back to top >>
Join Our Group!
You may join our FaceBook Fan Page, or follow us on twitter!